Types of Home Renovations
This usually involves adding additional spaces upward or outward from your existing home. Common house extension projects include adding additional bedrooms, bathrooms, or living areas.
Kitchen & Bathroom Renovations
Kitchen Renovation and Bathroom Renovation are two of the most popular types of renovation and can often have the biggest impact in terms of increasing your home's value.
Adding a laundry room to your home, or improving the existing space, can significantly increase the comfort you feel in your living space. The clutter can be kept away from the rest of the house and be attended to as needed with laundry renovation.
In Rockhampton, many homes have great outdoor spaces that are under utilised. Adding a deck, patio, or pergola can create a whole new area for entertaining, relaxing, or simply enjoying the outdoors. Learn more about our deck building service.
If you're looking for a complete transformation, a whole-house renovation may be for you. This type of project usually involves significant work, but the results can be truly stunning.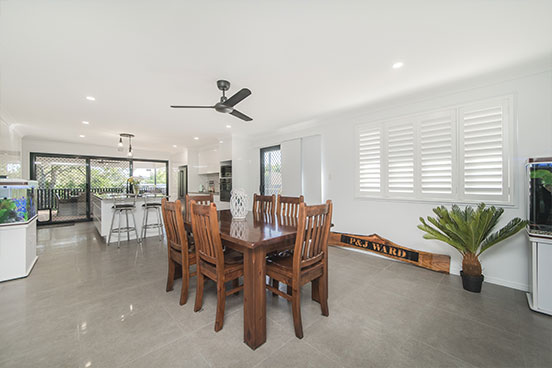 Important things to consider
It's important to have a realistic budget before starting any renovation project. Our team can work with you to develop a budget that meets your needs and ensures that your project stays on track.
Depending on the size and scope of your project, renovations can take anywhere from a few weeks to several months to complete. It's important to plan accordingly and ensure you're prepared for the disruptions a renovation can cause.
Depending on the type of work you're planning, you may need to obtain approval from your local council or other authorities. Our team can help guide you through this process and make sure that all the necessary approvals are in place before work begins.
thinking about getting started?
The quality of your experience is our primary focus. Building a good relationship between you and us sets a solid foundation for great success, and this needs to be established before you even start renovating. We start with an initial meeting/consultation with you to extract as much information as possible and fully understand exactly what you want.
The most important wants and desires for your home.
What you hope to achieve
Consider your lifestyle now and for the future
Your budget
Your idea of a dream result
Refined Space can help make your vision a reality if you're considering a renovation project in Rockhampton. Contact us today to discuss your ideas and get started on your project.