If it has been a while since you've had that new bathroom feeling, it could be time for an upgrade. Our team regularly delivers brand new bathrooms that completely transform our clients' homes and enhance their lifestyles. Taking all of your ideas, plans and parameters into consideration, we'll bring the space you have envisioned to life before your eyes.
If the bathroom in your home or office is in need of a new look, our team is prepared to take on bathroom renovation projects of any size and style. Specialising in major renovations and extensions, we have also developed a space-maximiser formula to assist our clients in making the most of their existing floor space, minimising the cost of works in the process.
A great deck can be the ultimate lifestyle addition – and you're closer to living that dream than you might think. All it takes is some careful planning and an efficient approach to construction, and that's what we're here for.
If you need more space in your home, a carefully planned extension could achieve the perfect result. As experts in the field, we are equipped to deliver a complete solution that makes more of what you've got.
ABOUT REFINED SPACE CONSTRUCTIONS
All too often we have clients coming to us that have been frustrated for years about not having enough room within their home and it is affecting how they live their life. Entertaining With family and friends is apart of the Australian culture and being able to change homes to suit their lifestyle is something we are really passionate about. Seeing the enjoyment on our clients face and adapting their home to suit their lifestyle and personality is something we take so much pride in and give us a sense of achievement…
NEED ANSWERS TO A FEW
BATHROOM RENOVATIONS

QUESTIONS?
Our free eBook covers some of the important factors you need to consider before beginning your home renovation journey, as well as tips for getting it done the right way. Fill out your details below and your free eBook will be sent to your email.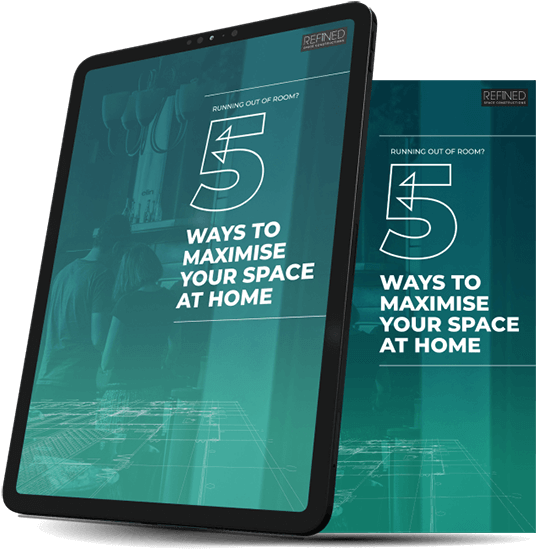 So you've been thinking about changing your home to suit your lifestyle, but you're not sure where to start (or what you want your finished product to look like)? Jump onto our Facebook page to keep up with the latest projects, ideas, tips and tricks on avoiding some of the most common mistakes people make in the building industry. Join us online, get the benefit of our expertise, and you'll be on the right track in no time.